Welcome! On this site you will meet my two wonderful deaf Aussies and my equally great Border Collie Fee and my NEW addition LeCajuns Red Hot Romeo

So step on in and click on the icon come meet us and see my little pack of furbabs.
A little bit about Shakespeare and Juliet my two deaf Aussies. Shakespeare was born deaf and I adopted him at the Orlando Humane Society in Fla. He was 13 weeks old.I did not know he was deaf till I picked him up after he was neutered (OUCH). But I have never regretted it.He is four now and has his Canine Good Citizen and is a registered therapy dog with the Delta Society and brings smiles to sick children and the elderly in nursing homes. He was voted one of the top 45 of Americas Most Incredible Dogs by Purina. HE has also been on TV on our local stations Channel Nine for the Orlando Humane Society Telethon, FOX 35 and our local CBS Channel 6..look for him modeling sweaters on Discovery Channel Home Matters show.He is my BEST buddy. Juliet is 2 years old and was also born deaf she came to me with the generous help from DDEAF flying her to me. You will see a link to them in my favorite places.She has graduated from puppy classes and learining Frisbee. And learning rather quickly. Ophelia (Fee)is my rescue Border Collie I got her at the same shelter Shakespeare came from. She is 2 1/2 years old and we are competing in Frisbee and belong to the Central Florida Dog & Disc Club. She was abused and doing quite well now. She is a cuddle bug.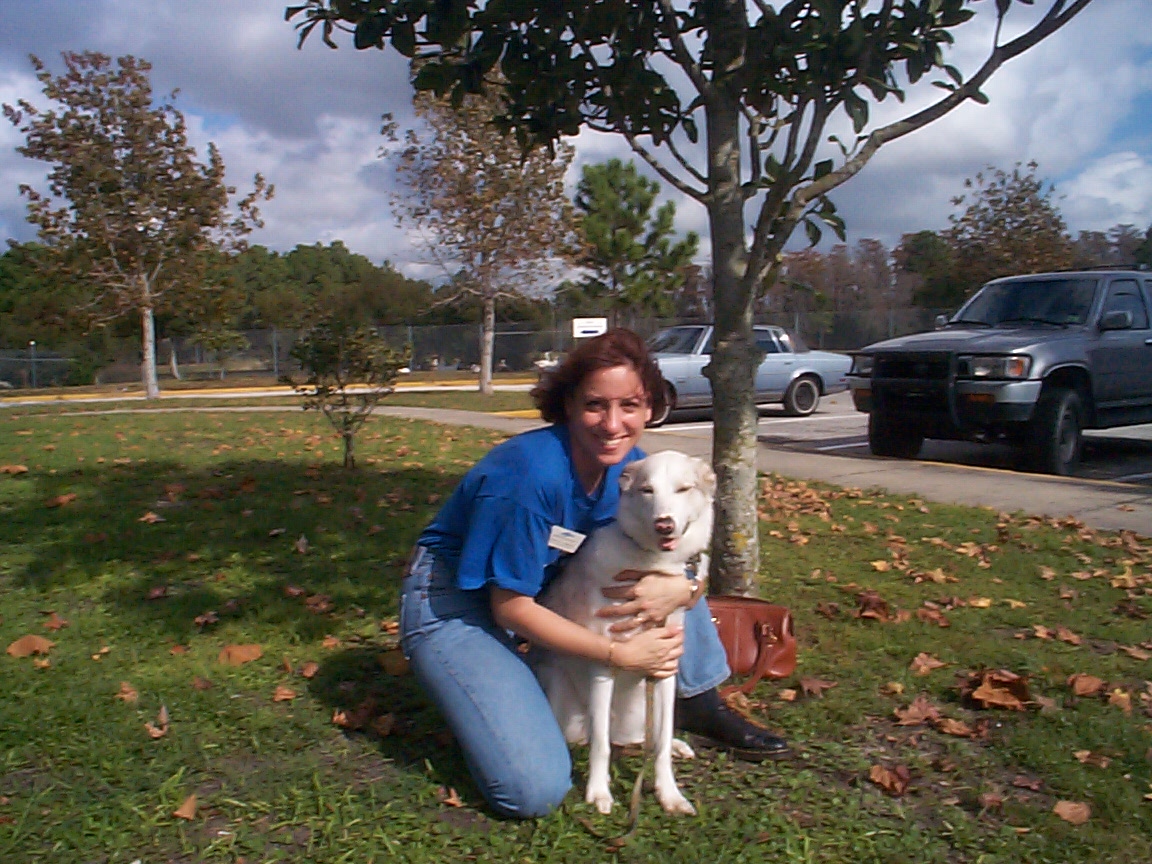 This is me and Shakespeare getting back from a visit to a nursing home. He loves visiting people. Deaf dogs are very affectionate.
I dedicate this page to those that lost thier lives on Sept 11, 2001 in New York City and the Pentagon in Washington D.C. And bless those Firefighters and Policemen and those SAR dog teams still there bringing closer to the families..I place this ribbon on my web page..

Babsamill@aol.com